My music is available on just about any streaming service, including Pandora, Spotify, and whatever else is out there, thanks to Distrokid.  
Here are all my releases with a brief description of each.
One Man. One Voice. One Year. Part 1
One Man. One Voice. One Year. Part 2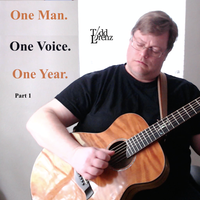 Albums released 5/26/21, ©Todd Lorenz, all rights reserved.  
COVID changed the way people consume in 2020.  A lot of artists started live streaming, but I didn't quite have the time to regularly have enough material for a regular live stream.  However, I could produce one live video a week.  And, similar to my Twenty Aught Eight project, I could do so for a full year.  That's how I started One Man. One Voice. One Year.  The first video was posted on 3/29/20; the last on 3/28/21.  Maybe 1/3 of the way through, it morphed into two videos a week - cover songs released on Wednesdays, and original songs on Sundays.  I don't have publishing rights to sell recordings of the covers, so the albums consist only of my material.  However, the videos are available.  Enjoy. 

Released 3/1/20, ©Todd Lorenz, all rights reserved. 
This collection of songs was written before my marriage ended, but many of them are about or deal with the end of a brief, yet passionate, relationship.  The words and music came fairly quickly, as did the recording process.  Mixing and mastering was a different story.  Ultimately, I think the album sounds great and I love the songs.  As always, they're all deeply personal and offer a peek into my soul.  Join me at your own risk.  
Love Songs & Lullabies 


Released 4/9/19 ©Todd Lorenz, all rights reserved. 
My ex-wife loved my guitar playing, probably more than I do.  While I was taking a hiatus from making music, she asked me to record a collection of songs to help her fall asleep at night.  The first thing I said was something like, "So you want me to write stuff so boring it puts you to sleep?"  I think it might have been her way of nudging me back into writing.  Two songs have vocals; the rest are instrumentals.  
Hope




Released 1/1/14 ©Todd Lorenz, all rights reserved. 
I had all the songs written and almost completely recorded for this album before I gave serious thought to and settled on its title.  Hope. Simple, straightforward, apt.  The songs cover some dark topics, but in the end, they are largely optimistic; probably because I'd like to be.  After all, what's the alternative?
Released 5/15/11 ©Todd Lorenz, all rights reserved. 
When I play live, I rarely perform cover songs. But, a friend and my wife both suggested I record some of the songs I did cover, along with a few others.  My favorite from this album is The Long Black Veil which was written by Marijohn Wilkin & Danny Dill, and has been covered by a number of artists including Lefty Frizzell, Johnny Cash, Dave Matthews, Joan Baez and The Chieftains (theirs was the first version I heard). I am especially proud of what I did with this song.  I've played some of these tunes for years; others were learned specifically for this project. I had a great time working with them, and each one has influenced me in one way or another.
 The Life & Times of Snuffy Wilson


Released 12/5/10 ©Todd Lorenz, all rights reserved. 
Snuffy Wilson is a character inspired by a single song (Never Got Along), various stories, and real life bluesmen who have graced this planet with their talents. Among them are Guy Davis, Robert Johnson, Son House, Muddy Waters, and John Lee Hooker.  While Snuffy is fictional, I suspect there's at least a bit of him in each of us; certainly I have more than my fair share. He's an example of what not to do, and perhaps he's an illustration of what happens when you go all in and lose.
Twenty Aught Eight, V2

Twenty Aught Eight, V3

Released in 2008 (all year long) ©Todd Lorenz, all rights reserved. 
Between Jan 13, 2008 and Jan 5, 2009 I published a new song every week. I called the project "Twenty Aught Eight" and eventually released the material on four albums with 13 songs each.  I started by posting to my myspace page (which is now defunct) and transitioned to publishing on my own site. It involved lots of work; I maintained a full time "day job" at the same time. But, it was more fun than anything else. I experienced tremendous growth as a writer, instrumentalist, and recording artist, and remain proud of the project.
My Blues


Released 5/1/07 ©Todd Lorenz, all rights reserved. 
This collection was released on the same day as Live. Love. Learn. Sing. Its songs are reworked versions of previously released material I wanted to revisit. The arrangements are sparse, consisting of one vocal and guitar, are are truly are a reflection of who I was.
Live. Love. Learn. Sing.


Released 5/1/07 ©Todd Lorenz, all rights reserved. 
This came out on the same day as My Blues. The songs were new at the time, and covered topics like love, desire, self-discovery, resolve, and a touch of zen.  
Here I Stand


Released 11/24/2004 ©Todd Lorenz, all rights reserved. 
The songs are introspective, and I'd like to think I've come a long way as an artist.  Topics incluce pain, loss, love, the desire for success, and the need to let go.
I also recorded two other albums which are no longer available - Reflections and Even My Shoes Got The Blues.  ©Todd Lorenz, all rights reserved. 


I've done a few audio books, listed below.  WARNING - they are adult books with graphic content. 
By Alex Lee
Confessions From A Sadist, Part One
Confessions From A Sadist, Part Two
Confessions From A Sadist, Part Three
By Gina Watson
Suited